If you're looking to buy a car you should always do your research and find its history. With our free car check, we'll let you know the vehicles tax and MOT status, technical specifications, emissions data, colour, fuel type, engine size and more.
Use our free vehicle history tool to find out key dates like when your car tax is due, MOT history and insightful details such as how many MPG your vehicle can achieve. Keeping a vehicle on the road isn't cheap and that's why we include real-world figures to let you know the true cost of owning a car, we also include how much it costs to tax your car.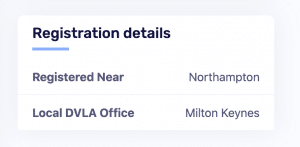 All you need is a car registration number and we can tell you the tax and MOT expiry date of a vehicle. Using the numberplate we can also tell you when and where the car was registered with DVLA. If you're looking to find out when your vehicle was manufactured, our free check will display this information under "Vehicle identity". You can also find out technical specifications related to a vehicle such as how many BHP a car has, the engine size and the fuel type.
How reliable is the free car check?
We source of vehicle data from the DVLA and with over a million scans completed you can count on us. If you upgrade to the premium car check, you'll be backed by a £30,000 data guarantee.
Is the free car check sufficient when buying a used car?
No. We're not just saying this because we'd like to sell you a paid car check and here's why. We always recommend our customers to upgrade to a premium car check because the free car history does not reveal if a car is on finance if it's been involved in an accident that has resulted in the vehicle being written off.
In addition to those critical data points, we'll also let you know if a car has been marked as stolen, how many users it has had, the number plate changes and more. We're so confident about our data we back it with a £30,000 peace of mind data guarantee.
In the month of October 2020
33% of vehicles failed our tests
24% of vehicles had outstanding finances
19% were written off
Our free vehicle history includes the following data for free.
Vehicle's Make & Model

Vehicle Colour

Vehicle BHP
Technical Specs

Fuel Type

Engine Size

Year of Manufacture

Tax Status

MOT status and a full history
Mileage timeline

Vehicle Type

Registration data

Emissions Data

Running costs