It can be a minefield sorting through oodles of online information on what you can have on a number plate and what you can't.
 So, the team at Motorscan have put their heads together to create the ultimate information guide on what you need to know to make sure you comply with the current British Standard BS AU 145e legislation.
What Information Must be Displayed on UK Number Plates?
Your number plates are legally required to display the following:
Registration number assigned to the vehicle

British Standard number (currently BS AU 145e)

Name, trademark or other way of identifying the plate manufacturer or supplier

Name and postcode of the outlet that prepared and supplied your plates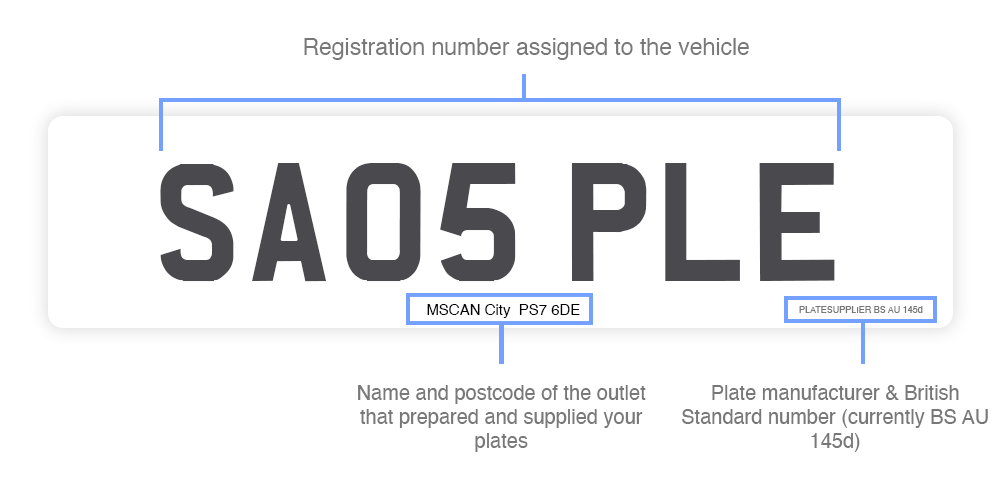 Can I Display any Side Badge on my Number Plates?
Under current legislation, you are only permitted to display certain side badges on the left-hand side of your number plates. It is therefore not allowed to display just any logo, football teams or other country flags. Currently, the following flags and national identifiers are permissible:
Allowable Flags:
Union Flag (also known as the Union Jack)

Cross of St George

Cross of St Andrew (Saltire)

Red Dragon of Wales
The letters, or national identifiers, you can have are:
GREAT BRITAIN, Great Britain or GB

UNITED KINGDOM, United Kingdom or UK

CYMRU, Cymru, CYM or Cym

ENGLAND, England, ENG, Eng

SCOTLAND, Scotland, SCO or Sco

WALES or Wales
Can I Choose the Font on my Number Plate?
Under the very stringent regulations, only the 'Charles Wright' font is allowed to be displayed on UK number plates in either the standard or 3D effect or two-tone format. Whilst it has previously been allowed to display fonts such as italic, highline and carbon. Under the new BS AU 145e regulation, These are now all prohibited.

What Colour Number Plates are Legal?
To conform with current British Standard regulations, your front number plate must have a white background, and on the rear of your vehicle, you must display a number plate with a yellow background. The plates must also be a reflective material and display standard font black letters and numbers.
Are you Allowed to Change Spacing on Number Plates?
There are stringent rules relating to number plates that cover character size, spacing between characters, character thickness, and margin heights and widths. Put simply; it is illegal to alter, rearrange or misrepresent the letters or numbers on a number plate which includes adjusting the spacing. For example, A555 ABC must not be displayed as A555A BC.
Do UK Number Plates have to have a Space?
The law states that you must not alter or rearrange the characters or numbers, including removing the space that must be retained. Failure to comply with the current number plate regulations may mean fines of up to £1,000.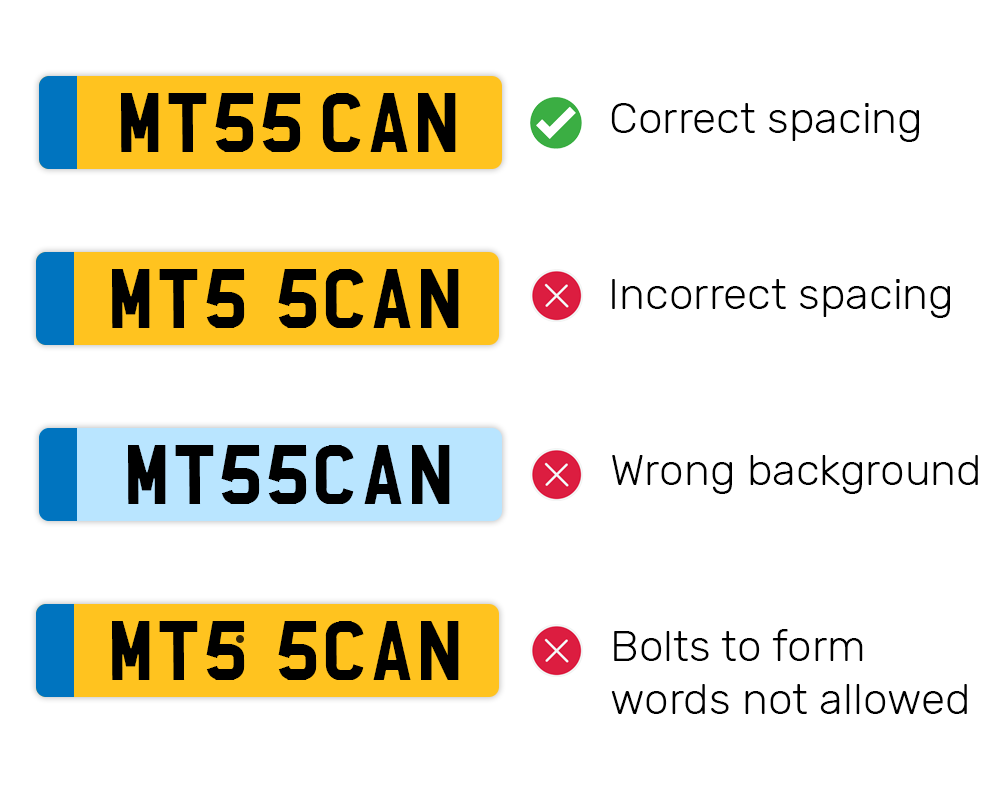 Do you have to Display a Front Number Plate?
Under UK law, it is a requirement that all cars driven on the road are required to display registrations on both the front and rear of the vehicle. It is a little different for motorcycles, and for those registered since 1 September 2001, only a rear number plate is allowed to be displayed, with only motorcycles registered before this date being permitted to show a front plate.
Is it Illegal to Drive with a Cracked Number Plate in the UK?
In the UK, you are required by law to display a front and rear number plate, so when a number plate becomes cracked, broken, faded or even just dirty that obscures the letters and numbers, then they are illegal.
They would also fail an MOT that says that your plates must not be excessively damaged, obscured, delaminated or deteriorated. For the sake of £20 to £30 for new number plates versus a possible £1,000 fine, it's perhaps a no-brainer!
Are Tinted Number Plates Legal?
It is illegal to display tinted number plates in the UK. There are stringent regulations governing number plates that are required to be reflective and show a white background on the front of a car and a yellow background on the rear of a vehicle. There are no allowances for tinted plates, which are regarded as obstructing the registration.
Are Backlit LED Number Plate Lights Legal?
There is a requirement that number plates on UK vehicles should be illuminated, and indeed most modern cars now use LED number plate lighting to do this. It is therefore completely legal to install LED number plate lighting to light up your plates, but you should stick with white illumination before you go ordering your favourite colour.
Whilst it may be fashionable to install blue LED lighting, blue lighting on vehicles is restricted to emergency vehicles only, so if you want to avoid possible MOT failures or fines, then curb your enthusiasm and go for white. 
Can you Drive with a Number Plate in a Front or Rear Windscreen?
In a nutshell, your number plate should be fixed onto the exterior of a vehicle, not inside it. The likelihood is that you could be fined for failing to display your number plate correctly. With a number plate inside a glass window, the registration is likely to be obscured by reflections or tinted glass, rendering it unreadable. Consequently, driving with incorrectly displayed number plates may land you with a fine of up to £1000.
How Small a Size can your Number Plate be?
While smaller number plates aren't illegal, they must still follow all the British Standards regulations for registrations. These regulations include the size of the characters, the spacing, margins and character thickness. Your plate, therefore, has to be the right size in order to display your registration correctly within these regulations.
The number of digits in your registration will also dictate how small a number plate you can have. For example, a personalised registration A1 ABC will display on a smaller plate and still conform with all the regulations. However, a standard registration A555 ABC will most likely only display correctly on a standard car number plate to conform. 
What are the New Green Number Plates?
The Department of Transport introduced green number plates to raise awareness of zero-emission electric vehicles, including cars, vans, buses, and motorcycles. By installing a green number, plate makes identifying those electric vehicles easier and will go on to help motorists benefit from local council initiatives, including free entry into zero-emission zones and cheaper parking. 
A green number plate can be identified by the green strip on the left-hand side of the plate and will be allowed on all-electric vehicles (EV). These green number plates will also make it easier for local authorities to create new initiatives for electric vehicle owners.