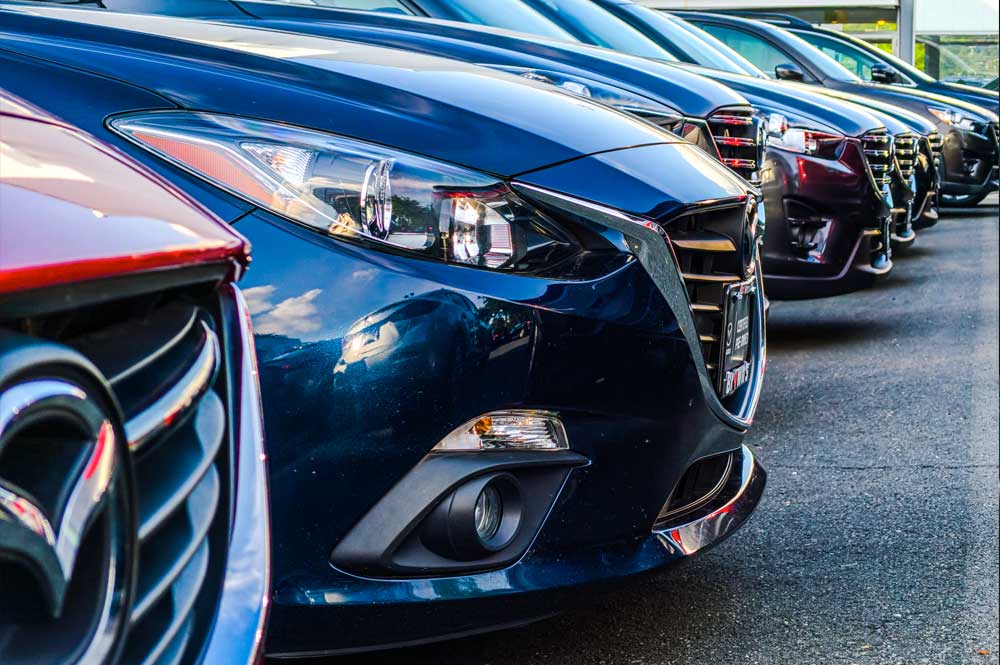 We've put together our ultimate guide to buying your next vehicle online whether it's through one of the new online delivery car sellers or from a private seller advertising on eBay. We'll help you make sure you purchase your next car safely so that you'll be cruising around very soon with a smile on your face.
Examine the Advert when buying a car online
'Too good to be true' is a saying you should be remembering when buying a second-hand vehicle. If criminals are in play or someone simply wants to rid themselves of a 'lemon', then car sale adverts will likely tempt you with a bargain price, making a vehicle extremely appealing.
Always research similar cars on sites like Auto Trader and know the valuation of the car you're looking to buy.
Always check the photographs on the advert. Do they look like the car being offered? Do the pictures look fabricated or copied from a manufacturer's website? If they don't appear to be genuine images of the vehicle being sold, it may be an indication that the advert is not legitimate.
Look out for Scams when buying a car
You should never buy a car before viewing it first. If a seller offers apologetic reasons as to why you can't view the car, then be very guarded. Excuses such as the vehicle's in another location, the seller is being deployed overseas or is going through a divorce, or there's a death in the family should all be taken with caution. Ultimately, there is no reason why you should hand over any monies without seeing the vehicle first.
Genuine car sellers are motivated to sell and will always accommodate a potential buyer who wants to see the car. If the seller genuinely can't show the vehicle themselves, they will find a family member or friend to show it on their behalf. This is critical when buying cars online.
Take a Test Drive
when buying a car online
Legitimate sellers will make every effort to accommodate the potential buyer, so don't be afraid to ask to test drive the vehicle. After all, the car may look great, but the engine may be on its last legs. If the seller makes excuses that you can't take it for a test drive, then simply walk away.
Check Car Information and Documents
Don't be shy at checking the VIN, engine number and chassis number matches the V5C document. These pieces of information will appear at various places on the vehicle, so make sure everything adds up before you part with your cash. If a few minor details don't match, then it may simply be an error that the seller can clarify. If you're suspicious and believe the seller gave you false details, then walk away.
You can use our Free Car Check tool to get information on a vehicle such as:
Vehicle tax – the current rate and when it expires
SORN status
MOT expiry
Date vehicle first registered
Last issue date for the logbook (V5C)
Year of manufacture
Type approval category
Weight
Engine size
Fuel type
Emissions – CO2, real driving emissions level and European status
You can also check the MOT History of the car to check for any gaps and to ensure the mileage is genuine. Vehicles over three years require an MOT, however, a car may not need one if it was unused or registered as SORN. The seller should be able to explain any gaps, but if you're at all suspicious, walk away.
Run a Vehicle History Check when buying a car online
You can run a history check on a vehicle using a Motorscan Car Check which will instantly tell you if the vehicle is recorded as stolen, scrapped, written-off, or subject to outstanding finance.
Inspect the Condition of the Car
Don't feel embarrassed to have a good look at the condition of the vehicle. You'll likely be handing over a sizeable amount of money so don't be rushed into making a decision. Take your time:
Look closely at the bodywork for any issues not declared.
Check under the bonnet and check the fluid levels for the oil, brake, and power steering. If they're low, it may be a sign the car hasn't been well maintained. Check for any oil leaks too.
Look underneath the car for signs of any leaks or rust problems.
Check the tyres. If they're on or near the legal limit or damaged in any way, you may be looking at the expense of new tyres.
Is the Car Advertised at the Right Price?
Whilst you don't want to be overpaying for a vehicle, you also don't want to end up buying an old banger because it was a bargain. Always know what a car is worth so you can be confident you're getting what you pay for. You can get a free valuation at Auto Trader's car valuation service.
Making Payment and Keeping yourself Protected
Paying by cash may appear to be the easiest way to pay for the purchase of a car.  There are no extra fees, and you may even get a discount, but you may not feel safe carrying a quantity of cash around, and if something does go wrong, you won't have the protection that some debit or credit card companies offer.
Some debit card providers have a 'chargeback' scheme where if something does go wrong, they may be able to get your money back. You should check with your debit card provider to make sure you're covered.
Credit card companies also offer you protection for goods costing between £100 and £30,000. Under Section 75 of the Consumer Credit Act, if there is a problem, they may be able to recover your money. However, using a credit card often means incurring high-interest rates.
Payment by bank transfer means you can transfer funds directly to the seller's account, but the bank will have an upper limit as to how much can be transferred. You'll also have little protection if something goes wrong once the funds have left your account. For more considerable sums, paying with a CHAPS payment through your bank is an option but will incur a bank charge and again offers very little protection once the funds have left your account.
Online Delivery Car Sellers
You'll likely be familiar with buying sites such as eBay and Autotrader where you can find your next second-hand car, but what about the new boys on the block advertising on TV that will deliver your new vehicle straight to your door? Companies like Cinch and Cazoo are offering hassle-free car purchase from the comfort of your sofa.
They boast competitively high-quality cars for sale, offering between 7 and 14 days no quibble returns so effectively you do get to inspect and try the vehicle out for a minimum of a week. It all sounds great, but the same advice still applies.
Don't merely trust that you're getting value for money. Check the prices advertised are competitive before making any decisions. Some people may be happy to pay a bit extra for the luxury of not having to leave the house, but you should still know the real value of a car before you part with your money.